Books & Products
Highlights
$20 Off: School Psychologist as Counselor: A Practitioner's Handbook
Through May 31, enjoy $20 off this popular publication. Strengthen your ability to serve students and advance your role. You'll learn about behavioral and cognitive–behavioral approaches to counseling; crisis intervention, grief, and loss; family system issues; substance abuse, delinquency, and incarcerated youth; and more.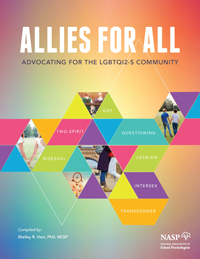 Print and Digital Formats for Allies for All
This collection of resources is now available in print and digital formats so you can choose the version that best meets your needs. Use with district leaders and parents to understand their experiences, address challenges, and effect change. Through May 31, we are also offering Dignity for All: Safeguarding LGBT Students for only $15 when you bundle it with Allies for All. Call our Publications department at 301-657-0270 ext. 500 for this special deal.